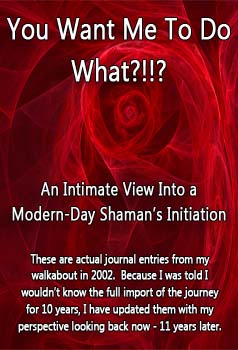 I've found something very special. I hesitate to quantify it or give it a name for fear of arresting its natural development. But suffice it to say that I have met my match and I think I like it. Every day brings new discoveries and new thrills. A poem or a song or a few words to lighten my mood. I require so little and yet receive so much. It warms my heart in ways I can't quite put into words. It makes me want to share it with everyone I know (no, not in that way, you cretins!). It's been a long, cold, lonely winter for my heart. Thankfully, it seems that spring thaw has finally arrived. And, while there is a little bit of tenderness as those parts which have fallen asleep tingle with new circulation, overall it's a feeling of life. And that is good. And very yummy.
* This is part of an ongoing series of posts detailing what happened on a spiritual pilgrimage that I took in 2002. To start from the beginning, go to July 2, 2013. To see the entire spiritual journey as it gets published, click on the category "You Want Me To Do WHAT?!!?" to see all of the posts.
Join The Mailing List
Get access to special offers and insights into new ways of being.