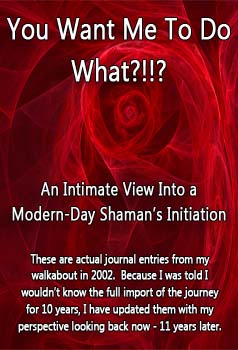 Things have been busy for me here in Groton, CT despite the sitting around watching "Sex and the City" DVD's. I looked up an old friend last night and he came over at 11 PM (just like old times). Almost five years ago now, I got my divorce which was about the same time as his fiance had died and the two of us were comfort to each other. He used to call me late at night and then come over and we'd sit, drink tea and chat for an hour or two until we could both sleep. Then he'd head home. It was a nice, if strange, arrangement. Felt like old times last night. I miss him.
*  This is part of an ongoing series of posts detailing what happened on a spiritual pilgrimage that I took in 2002.  To start from the beginning, go to July 2, 2013.  To see the entire spiritual journey as it gets published, click on the category "You Want Me To Do WHAT?!!?" to see all of the posts.  
Join The Mailing List
Get access to special offers and insights into new ways of being.