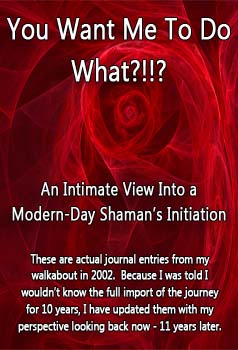 One final thing. I am planning to do an Imbolc ritual on Feb 2nd at Sam's place. If you would like to come, let me know and I'll send you directions. The theme is "taking stock." We will be sharing our thoughts on what has changed in our lives in the last few months and who we see ourselves as being now. Then we will talk about who we want to be in the future. It will be part witnessing and part manifesting. Should be a good, if casual, ritual.
* This is part of an ongoing series of posts detailing what happened on a spiritual pilgrimage that I took in 2002. To start from the beginning, go to July 2, 2013. To see the entire spiritual journey as it gets published, click on the category "You Want Me To Do WHAT?!!?" to see all of the posts.
Join The Mailing List
Get access to special offers and insights into new ways of being.