ATTENTION: Evolved Coaches, Healers, Spiritual Teachers, and Wellness Practitioners
Liminality For Luminaries
A Shaman-On-Call Service
You got into your spiritual work because you wanted to improve your life.
But now, you're deep into the business of helping others, you've created a 6, 7, or even 8-figure business, and your own spiritual work has fallen by the wayside.
Sure, you deal with things when they show up, but the proactive, hard-core you has moved over to your business and your progress on your own work has slowed dramatically.
You know the key to helping others at the highest level is to go deeper into working on yourself but you don't know the right place to go for this support.
Part of this is because you have run out of places to do your work.  Everything you look at is so basic you could teach it yourself – probably better than they will.
Part of it is because you're not sure what comes next.
Truth be told, you're a little stuck.
Kelle is a very powerful presence that allows your deepest wounds to emerge and be released. Her shamanic work is AMAZING and truly a precious gift. I know that her work has shifted me in ways that I have experienced with no one else. If you want to experience a BIG SHIFT of your deepest wounds, I strongly recommend that you work with her.
Kelle is more than a coach, more than a leader, more than a teacher. She does something that is brilliant beyond explanation… She's bright, deeply intuitive, intensely capable, and genius…she will peer into your soul, grasp the core of your passion with the utmost grace, and hold you like a mother while you watch with awe as she dusts it off and polishes it into the magnificent masterpiece you always suspected it was but were afraid to believe. Kelle believes you into success. If she is near you and has her arms out, go for the full embrace. You will be forever grateful that you did
I've never found someone who does shamanism in such a beautiful, profound, and unintimidating fashion.
You're also a little afraid that wherever it takes you might break down the success you've worked so hard for.
But at the same time, you're craving that space of doing your work and not being responsible for anyone else.
This is the challenge of getting further along in your personal evolution.
The deeper you go, the harder it is to see what needs to be done. The more you're dealing with issues on the level of assumption rather than belief, the more you find yourself at a loss.
Plus, it's entirely possible that you've missed some key element of your foundational learning that is holding you back now. After all, there isn't a curriculum you can check to see if you got it all.
Or, maybe you're being asked to expand your capabilities, but you're not sure which way to go or how to get there.
These are the times when having a guide/mentor can be invaluable.
Having someone who has been there, who has mapped the path, and who can intuit and guide you through the next stages can reduce your time in the soup of confusion.
And, after all the great work you've done for others, isn't it time to do something for yourself again?
I mean, you've earned it, right?
I know, you're thinking "but where am I going to find that? Everything is too basic, or might contain my clients (or potential clients), or I'll get there and find myself on duty helping others AGAIN"
I get it. I've been there. SO. Many. Times.
Maybe you have even paid to be at an event, only to end up doing healing work on the facilitators or stepping in to hold space for participants because the staff dropped them. I've had that happen too.
It sucks.
You deserve to have a space to do your work.  Where you're:
Not in danger of regularly running into your clients (or prospective clients)
Not on duty
Not holding space for others
Doing your own work to transform yourself and others at a whole next level
Facilitated into the next step of your personal evolution
Going into deeper levels of healing than you have ever experienced
With a teacher who has been there before and knows how to facilitate your transformation
And you get to add to your own spiritual toolbox in SPECIFIC and DEEP WAYS for use with your clients.
Now at this point in the sales copy, I would usually talk about the program. But I know that the program isn't relevant to you until you know whether or not I can deliver on what I promise.
You need to know whether I'm the "the real deal" or not.
I get it. I'd want to know that too.
You need to know if I am "big enough to hold you".
I got that phrase from one of my facilitator friends who was thinking about attending an event with me and my fellow shaman, Kathy Scheiern, but she was afraid we weren't big enough to hold all of her.
Without thinking, I expanded into 18 dimensions and asked "big enough? I can get bigger if you need me to."
She agreed to attend the event and this was her testimonial after it:
Just came back from one of the most extraordinary seminars I've ever attended with Kelle Sparta and Kathy Scheiern.
OMFG! It was SOOOOOOOOOOOOO far above and beyond ANYTHING I could have imagined!!! Healing. Empowering. Terrifying, clearingly AWESOME. CHANGED MY LIFE — no shit.
Let me simply say that, if you EVER get a chance to attend ANYTHING presented by EITHER of these women, RUN TOWARD IT like it's a walled city and you're being chased by zombies on turbo-charged motorcycles!!!
They have created a nurturing, no bullshit, no fluff, wisdom-filled… cauldron of awakening.
Let me point out that this is pharmaceutical-grade spiritual tough love medicine and it is NOT for tire kickers, hecklers, the faint of heart, or anyone who doesn't believe in opening up to passion in their purpose. You just have to be willing to AUTHENTICALLY show up and the medicine will work. Gonna stop gushing. It's simple: if you want to both succeed AND *enjoy* your success, check out their work. It's not a panacea — just a chest full of powerful medicine tools.
Here's a little bit more about me.
Meet The Shaman
Kelle Sparta is an elder with a wide array of spiritual knowledge spanning almost 50 years of study and experience. She has over 23 years of facilitating rituals and experiential events.  She is here to hold a safe and growthful container for you.
Kelle Sparta is a transformational shaman, Reiki Master Teacher (who isn't?), psychic, medium, channel, energy healer, sound healer, and empath. Kelle began her studies at the age of 5 when her mother brought home EST (the precursor to Landmark's Forum). She was doing self-hypnosis by the age of 10 and reading tarot cards at 12. She has done extensive work for at least 20 years each in the areas of personal growth, magick, energy healing, psychic abilities, occult and ritual studies, money, and business. Kelle has been facilitating rituals since 2000 and has been professionally coaching since 1996 (although many of her high school yearbook signatures read like client testimonials, so being a coach isn't what she does, it's who she is). Her engineer brain combined with her strong intuitive skills allows Kelle to map the unseen world and explain it in ways that make it easy to understand.
Kelle created the Cantara Vocal Sound HealingTM modality. She is the author of The Over-Achiever's Guide to Nailing Your Spiritual Growth in Record Time and the host of the wildly popular podcast, Spirit Sherpa, which has been downloaded over 250,000 times in 191 countries around the world.
In Short
I have testimonials from teachers, authors, speakers, healers, psychics, and educators. They are posted throughout this text.
I am where you go when you need to get unstuck, step into the next level of your evolution, walk through an identity shift, dig into something you can't quite see or articulate, need a psychic hit on something, need healing, etc.
So, what do you think? Big enough?
Good! Let's talk about you again.
Your Journey Begins
Personal/Business Energy Scan
Your journey will begin with a Personal/Business Energy Scan to determine what blocks are currently present in your life and business and map out the most effective way through those blocks. We'll look at:
Your aura – which will tell us where you are right now
7 Chakras – Specifically for blocks that are standing in the way of your evolution and the success of your business
Surrounding influences – personal and professional that may be impacting you
Inner child issues – Is your inner child distrustful? Are they withdrawn?  Are they afraid?  We'll see what your relationship is to your inner child and how you can adjust it to improve your life and your business
Identity issues – Are you hiding behind a mask of perfection?  Is your sense of self wobbly?  Are you putting forth an "image" instead of the real you?  We'll dig into the identity issues and help you step into your authentic self.
And finally, we'll identify the primary themes (there are usually 1-3) and the order in which to address them for fastest results
Scan for Other Challenges
We'll also spend some time looking into your:
Past lives – anything that could be holding you back in this life
Ancestral line – any unhealthy patterns from your family line that you are repeating
Sacred contracts – is there a contract that has gone unfulfilled that is holding you back?
And the areas surrounding your aura to see if there are any:

Entities
Curses
Or anything else needing to be cleared
I'll clear what is ready to go so you can start with a clean slate for your work with me.
Discussion of Your Goals
Next we will have a conversation about where you want to go in the next year and discuss:
How you like to learn – are you an audio, visual, or kinesthetic learner?  Do you like to have content to consume or would you prefer to be given what you need in the moment?
The paths you've taken in the past – what worked for you and what didn't
And from the information gleaned in the scans and in our conversation, we will identify the optimal path for you to move you into your next phase of evolution.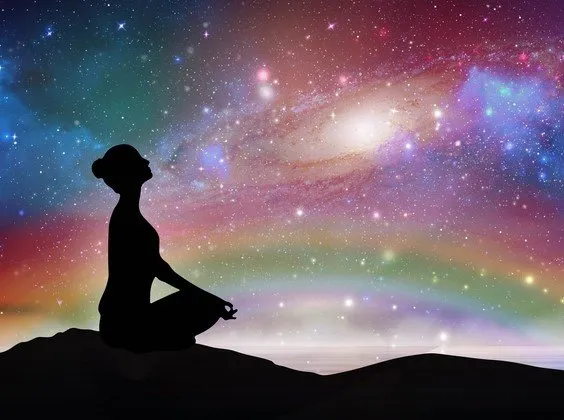 Kelle, You are, among other things, the initiator of women to the Priestess Sisterhood. You vanquish the demons of old and call forth women of magic into their full power.
It was a pleasure to work with Kelle. I walked away from our time together with new tools and felt lighter. I'm excited to see how this new level of being me shows up in my life and business. Thank you, Kelle.
Not Your Average Coaching Program
I spoke with one of my clients who said they won't do another coaching call where they have to wait 90 minutes before getting their turn to talk. Sure, they would learn from other people's shares, but the juice isn't worth the squeeze. They didn't have the time to waste in waiting.
Another client said that they were so tired of being in group calls where they were so much further along than the others in the group that they felt like they didn't fit in – they weren't home.
So here's the thing. I DON'T do group coaching calls at this level. No one is in the same place, so it just doesn't make sense. What is new and interesting to one person will be old hat and annoying to someone else and vice versa.
So this is a one-on-one program where you are working directly with me. All of the time is focused on you and your needs.
In my first session with Kelle she was able to cut right through to what really mattered.
I have worked with a lot of coaches and Kelle is top notch. If you are looking for an authentic conversation with real, tangible outcomes, then Kelle is the coach for you…
… What an honor to spend a Private Day with Kelle! We dove right in and created things that I have been trying to work through for years. I highly recommend making the Private Day commitment, you'll never look back!
My hat goes off to you Kelle.
Shaman-On-Call: Marco Polo Check-Ins
Not only are there not group coaching calls, but you don't even have to make appointments – you can check in on your timetable. If you're up early, you can message me at 4am. If you're in Australia doing an event, you can message at midnight. You can fit it into your hectic schedule anytime you want and that's by using the Marco Polo platform.
If you've never used Marco Polo, it's video messaging that works like text messaging – one person sends a video and it waits in the other person's inbox until they respond with a video of their own. If you are both there at the same time, it's like a video walkie-talkie.
You will message me directly and this is how your coaching will happen. 
Evolving Your Work
Throughout the year, you may be handed assignments in concert with what you've got going on in your life/business and you may have check-ins associated with those assignments.
And, if you need a question answered or you need support, you are always welcome to reach out and I'll answer or provide healing.
And, if you do need a live call, I'm happy to set that up too. Marco Polo is just easier for most people.
Here's a list of possible things you might ask for/get in your check-ins:
Sound healing
Energy healing
Coaching
Energetic checks
Corporate Intuitive Hits
Energy Scan
Psychic Reading
Mini-customized rituals
Learn The Way YOU Want To
The other complaint I heard when I spoke to people was that they didn't want to have to slog through a course with a ton of lessons in it. They preferred to just be handed what they needed when they needed it. No problem – this is YOUR program.
You're a busy person. You've got a business to run and a life to have.
So if you want, you can do your check-ins and just get in-the-moment coaching/energy work/intuitive reads that are in response to what is happening for you right now.
Trust me, that will be a powerful experience and it WILL move you forward.
Or, if you've got a need to understand more deeply or work in a more structured way, I can provide you with a learning platform with a custom-designed curriculum just for you. It's up to you.
The ultimate goal of this year is to:
Mentor you through what can be complex energetic shifts into higher levels of consciousness
Ensure you have proper protections in place for your energetic work
Provide you with a more comprehensive, structured understanding of the energetic realms
Help you dig out the more subtle energetic issues holding you back from more success, personal evolution, and inner peace
Fill in the gaps in your education to date so you have a solid foundation from which to grow
Provide you with a greater sense of confidence in your own abilities and skills
Tap into the places that elude you no matter how hard you try to reach them
Over the course of your work with me, we will work closely to deepen your understanding of the energetic world and move through your work on your personal evolution.
Step into this amazing transformational container with a well-established elder to mentor you through to your next evolutionary level.
Kelle Sparta is a great ritualistic life coach, shamanic coach, intuitive, really amazing, well-rounded, coach, guide, healer.
A lot of the practices I do, I learned from her.
She dances very strong in the ritual arts and in her confidence in her psychic abilities. Kelle really has taught me a lot in regards to being highly sensitive, empathic, and strong.
The aspect of her, that inspires me, that I'm inspired to be like, is that she really shows up in her authentic self in such a beautiful, empowered, confident, amazing way. She stays true to herself irregardless of the independent opinions of others. I value her work and how she shows up in the world in such a big way.
I've had the opportunity to work with so many teachers, and I've always been so thoroughly impressed with how she shows up in the world.
When I started working with Kelle I was lost. I had no idea what I was doing and my business decisions were primarily knee-jerk, fear based reactions. I'd begin working on something and get anxious and immediately throw out everything and start a new thing from scratch. This happened every couple of months and as you can imagine, I never got very far in my business. For example, I had a group program I had wanted to launch for 3 years and hardly any momentum because everytime i'd try to work on it, i'd panic.
Kelle taught me about my specific resistance patterns and ways that i was sabotaging myself. She helped me to commit to my work and see things to completion. She helped me stand tall and operate from my power and sovereignty and taught me that I don't need others to rescue me. This lesson alone saved me over $30,000. Kelle helped me to face my fears and finish that group program. She also helped me grow my business and move it into a space that is exponentially more aligned and exciting than where I had been.
Today I'm taking inspired action in my business like never before. I'm stretching myself beyond my comfort zone and I have a solid business plan. I know who I am and what I stand for. I know what I want and don't want. I know my values and non-negotiables. I'm a confident and powerful business owner and I'm more focused and driven than i've ever been. Though I sometimes have moments of fear, I don't let them control me. I'm happy and the most successful i've ever been, thanks to my work with Kelle Sparta.