It's strange to think of myself as a goddess.
It seems so egotistical, arrogant, and wrong. I mean, who am I to say I'm a goddess? Seriously.
And yet there is this knowing at the core of my being that tells me otherwise.
And then there's the fear of what you will think of me. But then I've already thought those things about myself so does it really matter?
So what I really want to say is that thinking of myself as a goddess is hard.
Ironically, being one is pretty simple. You see, being a goddess is just about being in love with the world. I find that most people have an abundance of love to give. They just feel like there's no love coming back. So maybe I should add that to the instructions:
Fall in love with the world.
Let it love you back.
Yes.  That's it.  Seems simple, right?  I mean if you think of the average dog, they fit this criteria.  But the most profound things are often deceptively simple.
And I do mean deceptively simple.
Because I've been walking this path for a while now and I have to tell you, it's taken me over 12 long years of hard work to get to the place where I could do those two things.  Where I could love people no matter how they treated me.  And where I could love myself enough to walk away from those who treated me badly and just love them from afar – so that I could make room for those who can love me up close in ways that I can receive.
It required a lot of steps in my personal process including:
Letting go of my anger and blaming
Evicting my victim
Allowing myself to be human (and not having to be perfect all the time)
Letting go of the idea that I create value by doing things for people – and accepting that I could be valuable just being me
Relaxing into allowing others to do things for me (rather than being attached to being independent and self-sufficient)
Trading in hyper-vigilance for presence
Upgrading from sexy to luscious
And much more… too much to list here really.
But don't listen to what I have to say about it.  I think that pictures speak so much louder than words.  Below is a pictorial of what I looked like over the last 12 years.  I can see the inner changes reflected in my face and I think you will too.
Christmas 1997
I see the forced smile in front of the Christmas tree that was supposed to be a happy time.  It wasn't.  I had built the life that everyone said I should want and found that I didn't like it at all.
I would ask my husband  for a divorce at the beginning of the next year and that would mark the beginning of my new spiritual journey to find myself.
This photo was taken as part of a portfolio-building shoot of nudes for a photographer who was a friend of a friend.  I was on walkabout (spiritual pilgrimage), but I did it in my car in the US.  You can read the full story on my (very old) livejournal blog from the time.
The photographer, Matthew Handelman, really got how angry I was in a way I didn't even know at the time.  He posed me for this photo and it made me very uncomfortable at the time.  Now, looking back, I see how much more clearly he saw me than I saw myself.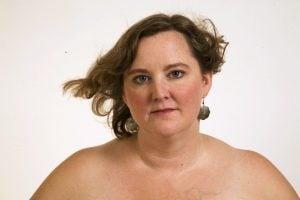 2006-2007 (Somewhere in There)
This was another photo shoot with a photographer friend. This time it was Jon Fischer.  (Yes, I'm incredibly blessed to be surrounded by talented, clear-sighted photographers.)  There were other, more fun photos from the shoot, but this has always been my favorite.
It was the point where I started to soften.  I'd done a lot of the anger work and was beginning to let love in.  I see the sadness and the grief and the pain I was finally embracing and the strength that showed up underneath them.
 January 2012
And finally, the person you see today.  Yet another photographer friend, Richard Curran, caught this image while I was singing on stage.
The softness has fully taken hold.  The grief is much less evident, even though my mother passed away in between this picture and the last.  There is strength, but it's strength in vulnerability rather than strength fueled by anger.
This has been my journey.  It has been a long one, but my life has been rich and filled with love and friends along the way.  I highly recommend it.
If you'd like some help getting started becoming your goddess self, I'd love to help.  Contact  me for a private session.